I think at this point, everyone will have read an article, or discussed, about how extraordinary 2020 has been. We've had to adapt to new ways of working, and, in most cases, completely change our lifestyle to one of lockdowns and quarantines.
In an ideal world, one of the biggest highlights of this year would have seen the world turn it's attention to the greatest sporting event of them all: the Olympics. After visiting Japan in 2019 and seeing for myself the plans the country had for the Games, it was going to be a sensational spectacle we would all remember for years to come.
This, sadly, was not the case, as the pandemic ended this party before it had even begun. The country has seen no foreign visitors come to its shores for months. Streets that were once filled with the hustle and bustle of curious tourists now lie quiet and empty.
Before Covid-19, Japan enjoyed a tourism boom. The number of arrivals almost tripled from 2013 to 2018, to a record 31.9 million, with Shinzo Abe declaring he wanted to attract 40 million overseas tourists in 2020, boosted thanks to the famous cherry blossom viewings and the Olympics. Japan's travel and tourism industry accounts for 7% of the country's GDP. When the pandemic struck, April 2020 saw a drop of 99.9% of tourists.
There are major worries for industries heavily reliant on outside visitors, and there are great concerns on the bankruptcy and closures of small and medium travel businesses, especially in rural and regional areas, which have been hit hard.
Having visited the lakes of Mount Fuji, which you can read in my Escape to the Countryside article, the community built there for tourists to enjoy is one I would not wish to see disappear, as these places were already under lots of pressure to survive.
It's not just rural communities suffering either. One of the main stories out of Japan this year saw Sega selling their arcade businesses due to large financial losses caused by the pandemic. In addition to this, the iconic arcade Sega Building Two, closed down on August 30.
Whilst it was never officially released as to the reason why Sega had to close it down, one can argue strongly that the lack of tourists exploring the otaku culture of Akihabara has not helped.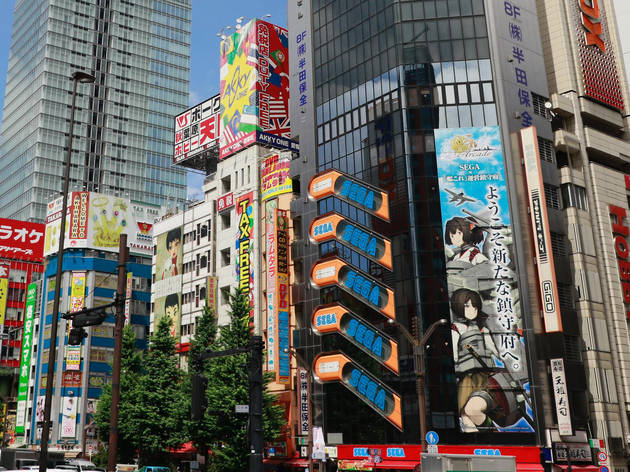 Hopefully, most of the arcades can keep surviving for the return of gamers and nerds alike.
It's sad to see places suffering in Japan when people like myself are just dying to get back there, and ready to spend our money to help rebuild the industry. Of course everyone will be desperate to leave the confines of their homes as soon as they can, but for me, it has to be Japan as the first port of call.
I'm a firm believer that Japan will open up again for tourists in 2021, as I think the economic repercussions of keeping the country closed another year to foreign visitors will be too much for the country to handle. I do not however see this happening before the planned Olympics in July, due to the cost of making the event Covid-19 proof and they would not want the extra headaches of potentially having to host millions of tourists.
Therefore, I see the winter months as an ideal time to start the return of visitors into Japan. The reason I think this is because those itching to go to Japan for it's culture and experiences will go without much to put them off. It will also not be as packed as the cherry blossom season, which means that if there still need to be social distancing restrictions, business can determine if they are able to cope with a greater influx of people again.
In the meantime, I just need to psyche myself to getting back there! Something I would have liked to do more before my previous visit was to plan more things to do. As fun as exploring and getting lost in the streets of Tokyo and mysteries of Kyoto is, having a solid plan of things to see and do is important to make the most out of the time spent in Japan.
There are of course, so many more places to visit! One place I would love to visit is Hokkaido. From watching Golden Kamuy and listening to eastern youth, to seeing the sights of brewerys and ice festivals, I think the northernmost island is the most exciting of them all. With it also being the home of the indigenous Ainu people, there's so much history to discover there and stories to get lost in.
From within the walls of my bedroom, the plan is this. I aim to embrace a lot more Japanese culture in 2021. This will be through consuming more anime, reading up on current affairs and creating my own content which I will enjoy sharing with the world, not to mention sharing my favourite music from the land of the rising sun!
One thing that does frequently cross my mind is if I should dive into learning Japanese. Whilst I love listening to it through music and anime, a part of me does feel sad that I can't fully appreciate anything except the sound, as seeing all those Japanese symbols mean nothing to me. It would be a daunting challenge, but going to Japan understanding more of the language and recognising things would be pretty cool.
My Youtube channel will see more uploads, my Twitch channel will see more broadcasts, and ultimately, more activity will be happening on this site. I also recently starting to upload to TikTok, so more fun things may start showing up on there!
All this activity will lead to me returning to Japan with a plan to share an exciting adventure with you all, and I'm hoping for people to get on board with me.
Johnny.
(musse)