Imagine a world. Everything is back to normal. We can make travel plans again to travel the globe, wherever we want to go.
With good planning, comes a good adventure, (keeping that as a wise quote for the future!)
Following on my previous blog post, The Japan Plan: 2021, I've started thinking about some of the places I would like to visit when I return to Japan, and why I'm interested in going there.
From watching plenty of anime this past year, and following the journeys of some of my favourite content creators over there, some locations have confidently made their way onto my Japan Bucket List.
Here are my Top 5 places I want to go visit and why!
Hokkaido
Japan's northernmost island is one of great mystery.
We see plenty of Tokyo's electronic landscapes and Kyoto's Edo-period architecture, but what is so special about the land dubbed 'The Canada of Japan?'
A big attraction in Hokkaido are the Snow Festivals, the biggest ones taking place in Sapparo and Asahikawa. They both take place in the early parts of February and attract artists all over the world to create beautiful sculptures of snow and ice.
To compliment the visit to these cities, Hokkaido is well renowned for being the home of the biggest breweries in Japan.
The most well-known of those is the Asahi Brewery in Sapparo, which offers free guided tours and beer tasting for all those that visit. Not that I will need to try it of course, it's my favourite Japanese beer available in the UK.
The land of Hokkaido itself however came mostly to my attention as the backdrop to one of my favourite anime series, Golden Kamuy. The show takes place after the Russo-Japanese war of 1904-1905, with the title character Sugimoto teaming up with Asirpa to find a hidden treasure. Taking place in the harshest conditions Hokkaido has to offer, it celebrates the history of the indigenous people of the land, the Ainu.

With supervision from Ainu historians, the show beautifully shows the customs and traditions of the tribespeople, of which there are still an estimated population of 25,000 as of 2002. I would love to find out more and visit their land as the show definitely spiked my intrigue into their culture. You can find out more about the Ainu people at this Youtube channel here.
The show also features Abashiri Prison as a main landmark for the show, which is Japan's only prison museum. Here you can learn about the tale of the anti-hero Yoshie Shiratori, the only man to ever escape, of which there is a character in the show based on him.
Fukushima
The news of the 2011 earthquake and tsunami came as a monumental shock to the world.
10 years on, communities have moved back in, and began rebuilding their lives once again. A brilliant video to watch is Abroad in Japan's Inside Fukushima, which explores how these lands have had to adapt since the disaster, and tells touching stories of the people who are rebuilding their lives there.
I wouldn't personally like to visit the abandoned towns that are still visible to those that venture near to the nuclear power plant, however the effort of the townsfolk to bring Fukushima back to it's former glory is certainly something to be admired, and for me, it is more about supporting their tourism for positive reasons and enjoying the wonderful sights of the prefecture.
Hiroshima
There's only one thing that really springs to mind when someone mentions Hiroshima.
In the modern age, Hiroshima is the centre of the world's ambition for everlasting peace. It is a must visit for me, and it was in my original plans to visit the first time around.
Next time, I hope to arrange it much better to be able to visit this impressive city and it's intriguing sights.
One of the Three Scenic Views of Japan, as illustrated by the scholar Hayashi Gahō, is the Torii at Itsukushima Shrine. With it just being around the corner so to speak, a boat trip to the island would be amazing, and there are more tame deer to be found here too!
Osaka
There's a feeling of those who hail from Tokyo that Osaka is the sort of city where everything is a more bit socially relaxed, a bit more rough and tumble. Much like what people of Manchester might think of Liverpool perhaps.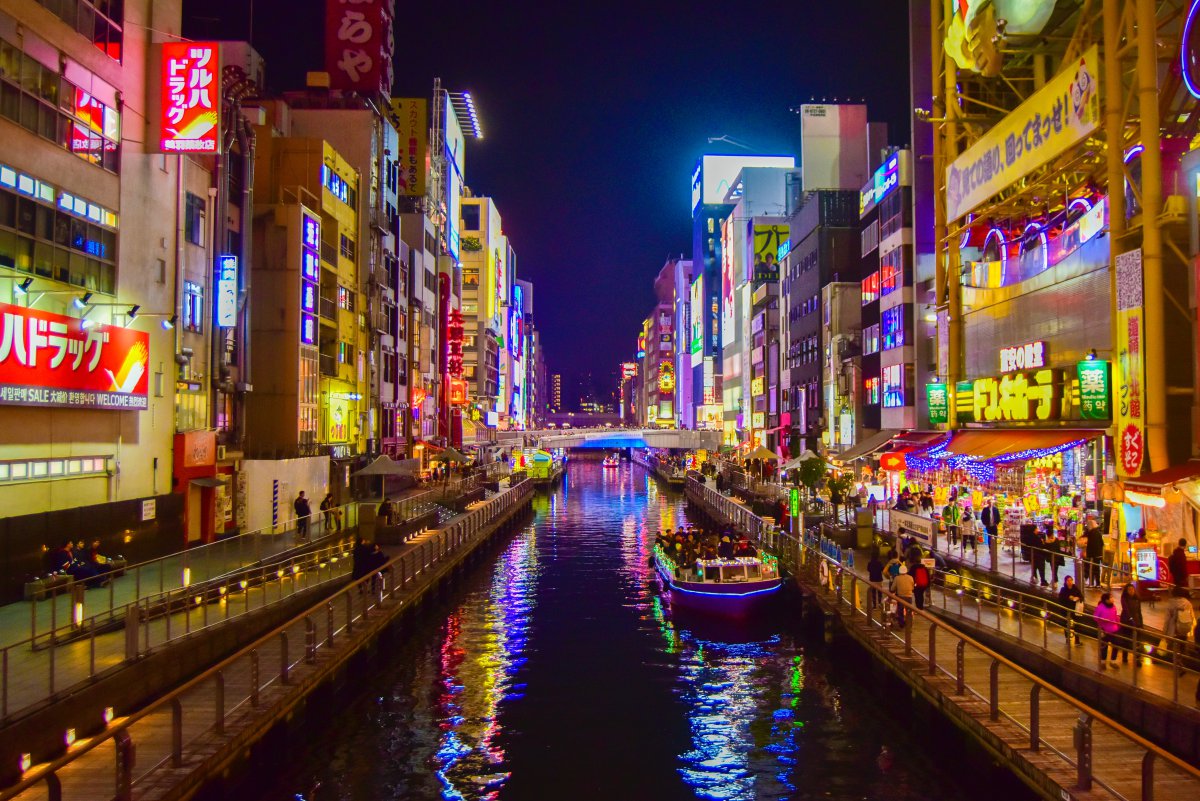 I think a visit to Osaka would be interesting because first and foremost, I'd like to see if these attitudes hold any truth to them.
Maybe it'd be good to see a place where the Japanese folk are being a bit more lively and noisy around town, enjoying laughs around the street restaurants and bars, throwing away those social conventions you might find in downtown Tokyo.
Secondly though, I love to see the old against the new, and nothing beats seeing a majestic castle in the middle of a concrete jungle.
Shimanami Kaido
One of the best and cheapest ways to do some exploring is to hire a bike. Simple as. You can guarantee yourself amazing views and limitless exploration.
Whilst this location is not strictly a city, I think this is one bike route I'd love to be able to do one day.
It's a route much celebrated by cyclists for the spectacular scenery of the little islands scattered around the area, and very well designed for cyclists of all abilities using bikes of all different types. It's certainly an activity that perhaps a whole weekend could be set aside for.
To get a better idea of what you would see, you can check out this video from internationally ME.
Reading about the different journeys and experiences people have in this part of Japan, everyone will be sure to have their own unique adventures island hopping across the inland sea.
There it is! My little bucket list of places to visit in the future is there, but of course, the main thing is just going back and having even more amazing experiences in my favourite country.
If there are any places you'd love to visit, let me know in the comments below!
To keep up to date with everything across all the social platforms, don't forget to hit follow for future updates, or join the Discord.
Until next time, stay safe everyone.